Initiatives in FY 2015
Using the knowledge we acquire by implementing energy conservation initiatives across the entire azbil Group, our core businesses help customers and the general public to save electricity and otherwise conserve energy.
Efforts to Prevent Global Warming through Our Business Operations
Global warming is a worldwide challenge. Members of the azbil Group are working together proactively to take measures to save electricity and conserve energy in their business activities, while bearing in mind the importance of their role in helping customers and society to significantly reduce CO2 emissions.
Under the leadership of the azbil Group Environmental Load Innovation Officer, he management team and employees within the azbil Group work together to reduce CO2 emissions, with each major business site supervised by an executive officer. Moreover, the environment supervisors committee, which is responsible for Group-wide energy management, meets six times each year. The committee, which is led by the executive officer in charge of environmental load innovation, is composed of officers responsible for energy management at individual business sites. At its meetings, the committee sets CO2 reduction targets, formulates a plan for achieving the targets, checks the progress of the plan, and feeds the results back to business sites, thereby encouraging proactive action on behalf of the environment.
The implementation of effective electricity-saving and energy-conserving initiatives that optimize energy use at factories and offices is accomplished by visualization of electricity usage through an energy management solution service. The knowledge acquired through these initiatives can then be used to help customers and the general public.
Results for the Year Ended March 2016 and Future Plans
Our environmental preservation activities are based on quantitative data concerning the various burdens placed on the environment by our business activities. With the aim of achieving a low-carbon society, we strive to evaluate environmental impact across all of our business activities. As a result of our proactive efforts concerning our own business activities, we exceeded our target of a 37% cut in CO2 emissions in the year ended March 2016 as compared with their level in the year ended March 2007, achieving a 40% reduction, or a 45% improvement per unit sales.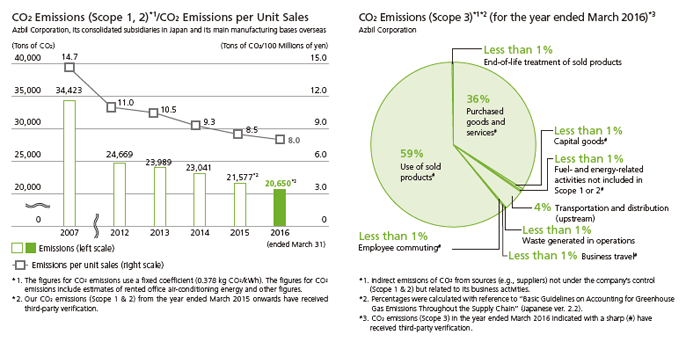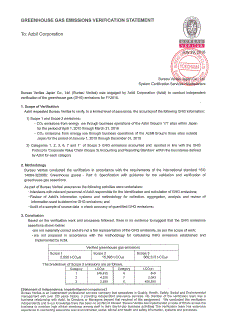 Greenhouse Gas Emissions Verification Statement
(Click here for more detail)
Initiatives in FY2015
Group-wide Electricity-Saving and Energy-Efficiency Initiatives
We are actively deploying our own energy management solution, at the Group's major business centers within Japan and overseas to promote efforts to save electricity and use energy efficiently through improvements in both operation and equipment by "visualizing" electricity usage and other information in real time. Each site conducts regular energy efficiency reviews. In addition, the company's environmental promotion team, the energy efficiency experts from our business divisions dealing with energy efficiency, and our product and technology development teams work together to develop new visualization-based energy efficiency measures through trial and error, and they are steadily achieving results. The knowledge gained through these initiatives is used to increase energy efficiency and electricity conservation among our customers and the general public. In the year ended March 2016, we introduced our visualization system at Azbil Production (Thailand) Co., Ltd.
Our Sites That Have Adopted the Visualization System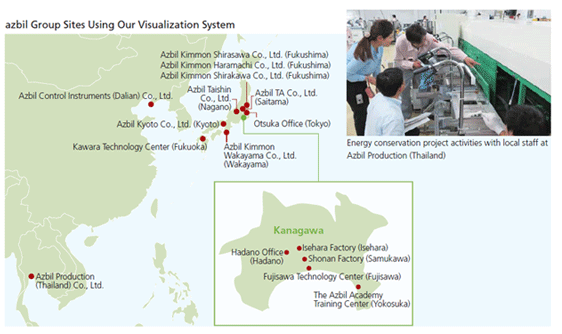 Past initiatives
Reducing Society's Impact on the Environment
We strive not only to reduce the CO2 emissions from our own business activities, but also to provide products and solutions that help our customers to reduce their burden on the environment.
For details, see "Reducing Society's Impact on the Environment."
Overall of Environmental Initiatives

Contributing to the environment through our core businesses

Reducing the environmental impact of our own business activities