Initiatives in FY 2014
Results and Future Plans
we strive to evaluate environmental impact based on the entire value chain. As a result of our proactive efforts concerning our own business activities, our CO2emissions in the year ended March 2015 were down 37% from their level in the year ended March 2007, with a 42% improvement per unit sales. We will continue to undertake initiatives, with the full participation of our employees, in order to achieve our new target of a reduction of at least 38% compared with the March 2007 level by the year ending in March 2017.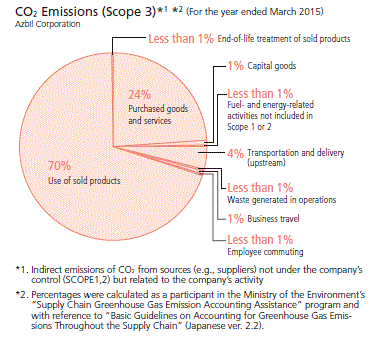 Promoting the Group-wide Use of Our Energy Management Solution
We are actively deploying our own energy management solution at major business centers throughout the Group to promote energy conservation through improvements focused on both operation and equipment by "visualizing" information such as electricity usage. Each site conducts regular energy efficiency reviews, and we make every effort to ensure that each site can achieve its targets through follow-up by a dedicated CO2 reduction team. The knowledge gained through these initiatives is used to increase energy efficiency and electricity conservation among our customers and society as a whole.
In the year ended March 2015, we launched our visualization initiative at Azbil TA Co., Ltd., and Azbil Control Instruments (Dalian) Co., Ltd. In the year ending March 2016, we intend to introduce it at Azbil Production (Thailand) Co., Ltd.
Our Sites That Have Adopted the Visualization System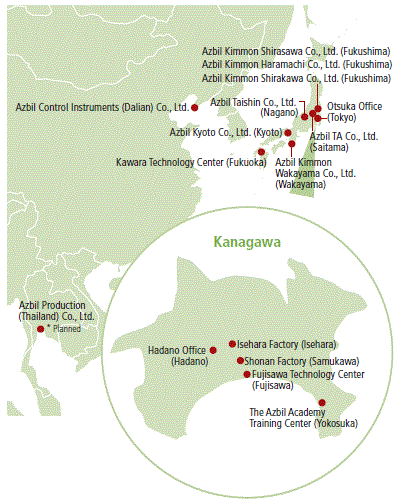 Developing a New Cogeneration Control that Can Use Exhaust Heat without Waste
In March 2015, when refurbishing the air conditioning heat source system at Fujisawa Technology Center, we introduced a cogeneration system, and we are currently testing one of its environmentally friendly technological features, a new control method. Cogeneration systems recover and utilize exhaust heat from power generation, thereby increasing overall energy efficiency, but in many cases the amount of exhaust heat is greater than the amount of heat actually used, resulting in a system that is not maximally efficient. Accordingly, we have devised a control method that controls not only the number of operating units, but also the amount of power generated according to the amount of heat to be used, so that exhaust heat is used without any waste. The Technology Center is working on field trials and expects an energy conservation effect of around 15% annually. The system can also make use of exhaust heat to generate cooling. In due course, we will make use of this innovation to improve the efficiency of our customers' cogeneration systems.
Waste-free Exhaust Heat Control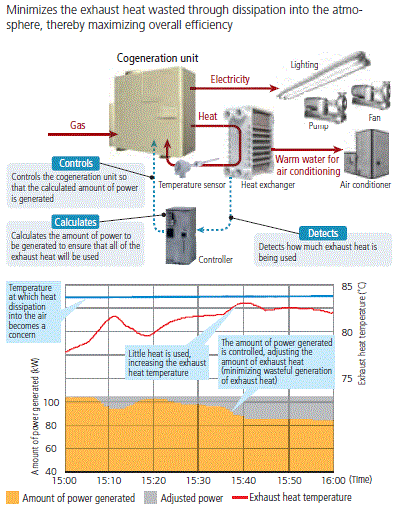 Overall of Environmental Initiatives

Contributing to the environment through our core businesses

Reducing the environmental impact of our own business activities