Initiatives in FY 2019
Results for the Fiscal Year 2019
CO
2

Emissions from the Group's Business Activities (Scopes 1+2)

CO2 emissions produced by azbil Group bases during our business operations in fiscal year 2019 (ended March 2020) were 18,000 metric tons, a 47% drop from 2006. We are actively introducing energy visualization systems into our operations that run continuously, harnessing many years of accumulated knowledge, and are working on improving both the operational and equipment-related aspects of our business. Through streamlining of the production and development processes and administrative streamlining by changing the ways we work, we are seeking to further reduce energy consumption, introducing renewable energy generation facilities, high-efficiency procurement of renewable energy, and utilization of Green Power Certificates.
CO
2

Emissions Throughout the Supply Chain (Scope 3)

Total CO2 emissions for the the entire supply chain in fiscal year 2019 amounted to 838,000 metric tons. More than 90% of those CO2 emissions came from the use of products sold and purchased products and services, so we are focusing on environmentally conscious design aimed at conserving energy and reducing resource use.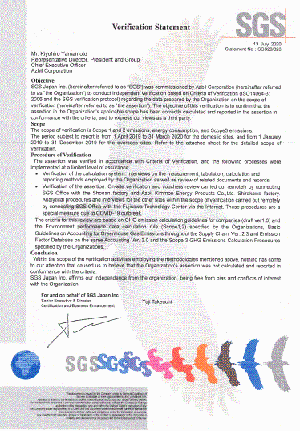 Greenhouse Gas Emissions Verification Statement
(Click here for more detail)
CO2 Emissions (Scope 1+2) produced by azbil Group bases
(Metric tons of CO2)
| | FY2017 | FY2018 | FY2019 |
| --- | --- | --- | --- |
| Scope 1 | 4,735 | 4,205 | 3,878 |
| Scope 2 | 14,875 | 14,920 | 14,252 |
| Scope 1+2 | 19,610 | 19,125 | 18,130 |
Initiatives in FY2019
Initiatives for reducing CO
2

emissions at Azbil Telstar

As part of efforts to reduce CO2 emissions associated with our own business activities, we began procuring green power for our production plants in Spain starting in 2020. This will lead to a significant reduction in CO2 emissions. In Spain, regional characteristics such as long sunlight hours are driving the relatively widespread use of green power, thus promoting procurement initiatives. We proactively introduce LED lighting to reduce power consumption. We are also reducing fuel consumption by changing our company cars to hybrid or electric vehicles. In addition, we will iinstall new air conditioners that use refrigerants with low global warming potential. In these ways, we are working to meet our CO2 emissions reduction targets from 2020 to 2023, which are within the CO2 emissions reduction framework of the entire azbil Group.

As for reducing CO2 emissions through our products, our Research and Development Department is spearheading the development of high-efficiency equipment that contributes to reduced energy consumption, the increase in the percentage of recyclable materials, and the use of refrigerants with low global warming potential as much as possible.

We at Azbil Telstar are fully committed to reducing the environmental impact of our business activities. All employees are working in unison to promote environmental initiatives, as well as to provide customers and society with environmentally friendly products.
Past initiatives
Reducing Society's Impact on the Environment
We strive not only to reduce the CO2 emissions from our own business activities, but also to provide products and solutions that help our customers to reduce their burden on the environment.
For details, see "Realizing Our Desire to Reduce Environmental Impact Through Our Core Businesses"
Overall of Environmental Initiatives

Contributing to the environment through our core businesses

Reducing the environmental impact of our own business activities