Environmental Management Promotion Framework
The promotion of environmental conservation efforts takes place under an environmental management framework that covers the entire azbil Group. The executive officer in charge of environmental load innovation, who plays the central role in environmental preservation, coordinates the Group's environmental activities and supports the CEO in relation to environmental concerns.
The azbil Group Environmental Committee, led by this executive officer, is responsible for the overall environmental management of the azbil Group. The committee promotes and reviews plans to improve the quality of the Group's environmental management. This committee plays the leading role in actively implementing environmental preservation initiatives across the entire Group, including overseas production sites.
*72% of the Group based on CO2 emissions in fiscal year 2019 acquires ISO 14001 certification.
Environmental Management Promotion Framework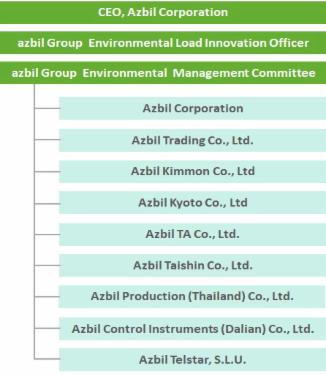 Overall of Environmental Initiatives

Contributing to the environment through our core businesses

Reducing the environmental impact of our own business activities