Internal Control
Constant review and improvement of internal control systems is used to promote highly efficient, lawful, and transparent Group management.
Improving Internal Control Systems
All officers and employees are required to comply with the clearly stated "azbil Group Basic Policy on Internal Control System Architecture," and the azbil Group discloses the status of implementation of the policy. In order to ensure proper reporting during an emergency or critical event, such as an illegal or unethical act of major proportions at a domestic or overseas subsidiary, in fiscal year 2018 we established a system for more quickly and reliably implementing measures to prevent recurrence. We will continue working to improve our internal control systems by creating structures that are efficient, lawful, and highly transparent.
Feedbak Loop System for Employee Cocerns and Internal Issues
To strengthen CSR management, the azbil Group has set up a reporting and consultation system, the CSR Hotline, to swiftly identify and deal with compliance violations or the potential for such violations. This system is primarily for reporting and consultation about actions that deviate from the Group's code of conduct, such as legal violations, human rights issues, and improper accounting. Our work rules and other regulations include a whistle-blower protection clause to prevent whistleblowers from being disadvantaged as a result of their actions. In Japan, the system also handles inquiries related to employees' personal troubles and concerns, as well as personnel evaluations, and questions about the personnel system and welfare programs. We have also set up two reporting and consultation hotlines - one internal and one external - that accept anonymous inquiries and are easily accessible. These hotlines are well recognized and used by many employees on a daily basis.
Improvements in Accounting in Response to the Internal Control Reporting System Mandated by "J-SOX"
To improve our response to the internal control reporting system requirement ("J-SOX") prescribed by the Financial Instruments and Exchange Act, we conduct periodic reviews of the scope of internal audit and review risks and controls in light of changing business conditions. The core information system operating at Azbil Corporation was extended to Azbil Korea Co., Ltd., and Azbil Production (Thailand) Co., Ltd., in January 2019. We will continue to introduce the system and revise our administrative processes at other Group companies in Japan and overseas. We conduct ongoing education programs aimed at improving the accounting levels of all Group employees in Japan and overseas. In addition, we are working to further improve the accounting, internal control, and other systems of overseas subsidiaries in order to raise the standard and enhance the reliability of the azbil Group's internal control system.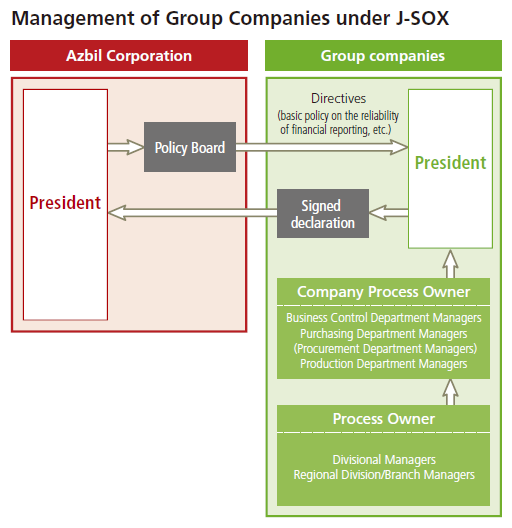 Related Information
Support