Interview with the CEO

Kiyohiro Yamamoto
Director, Representative Corporate Executive, President & Group Chief Executive Officer
Q1. What is your evaluation of the company's performance and the business conditions in fiscal 2021?
A1. We advanced the medium-term plan and expanded the role that automation can play providing solutions. We also gained a clear understanding of issues we need to address as a company.
Earnings were boosted by our strategic initiatives and an improving market that confirmed the brisk demand for automation technologies.
The current business environment for automation is characterized by the rapidly changing needs of our customers and society, particularly to prevent the spread of COVID-19 and for decarbonization to protect the environment. Responding to social issues is built into our business model, and we see these and other areas as presenting growing opportunities for the azbil Group to deliver automation solutions. Through our long-term target to contribute "in series" to the achievement of a sustainable society, we aim to continue expanding our business while helping to realize a flourishing society.
Fiscal 2021 was the first year of the current medium-term plan to fiscal 2024 and marks the beginning of the transformation that will put the Group on course to attain our long-term targets. While looking ahead to our future, we also continued to take special steps in the present to protect our employees and customers from the coronavirus. Although the environment was not ideal for business, we made demonstrable progress with many of our initiatives during the year and increased our confidence in the direction of our medium-term plan's initiatives and our long-term targets.
Our business performance for the year included increased orders and sales in all three of our business segments: Building Automation (BA), Advanced Automation (AA), and Life Automation (LA). Our plan to steadily ramp up R&D and other spending focused on growth started producing results, and we increased our operating income. The business environment in Japan included ongoing urban redevelopment activity, which provided a firm base of demand for air-conditioning control equipment and systems for large buildings. We also saw increased demand associated with renovation projects, particularly from the needs for improved energy efficiency and for air ventilation. Capital investment in the manufacturing industry increased, particularly for production equipment and systems amid ongoing strong demand in markets related to semiconductors. Demand was also strong from the pharmaceuticals industry for production line equipment.
Quick response to the parts procurement difficulties and geopolitical risk
At the same time, the business conditions presented a constant challenge throughout the year with the coronavirus pandemic and the growing impact of parts procurement difficulties. Widespread demand for automation and energy-efficient equipment supported a sharp increase in orders, but supply chain disruptions hindered our ability to procure parts and ultimately limited the growth in final sales and profits.
Under our business continuity plan, we had a solid parts procurement structure in place, but the already challenging conditions grew more intense with the worldwide spread of geopolitical risk in the second half of fiscal 2021. We accordingly started taking steps to further strengthen our BCP and overall resilience in case the situation reached emergency conditions. Looking ahead, our long-term outlook is unchanged. We expect automation to attract increasing demand as a solution for social and client needs, and we are restructuring our businesses and fortifying our business foundation in preparation for our transformation. Management also continues to carefully monitor the pandemic situation to be prepared for any scenario while also taking full advantage of the growing demand for automation.
Q2. What is the progress of your medium-term strategy to strengthen the automation technology in the three growth fields?
A2. Strengthening R&D bases and other steps to fortify our business foundation have increased our ability to develop products and services in the three growth fields and enabled more fruitful collaborations with other companies.
We completed the central R&D base's new laboratory buildings in May 2022 and increased our customer contact points
We have set the three business domains of new automation, environment and energy, and life-cycle solutions as the growth fields for our transformation, and these will be the primary focus of our efforts to expand the core BA, AA, and LA businesses. We established a solid foundation for their growth in fiscal 2021 with the construction and outfitting of new laboratory buildings in the Fujisawa Technology Center, a state-of-the art facility that will be our primary base for R&D in advanced system solutions and high-performance, high-precision devices. We also made great strides adding new contact points with customers in Japan and overseas. Two of our biggest initiatives took place in Singapore, where we joined the Smart Urban Co-Innovation Lab led by CapitaLand and launched a program to develop an integrated building management system (IBMS) supported from the Singapore Economic Development Board.
Significant progress was also made fortifying the businesses in the three growth fields, particularly in the areas of setting up product and service channels and forming new collaborative alliances.
The Building Automation business focused on meeting emerging needs in the growth fields of new automation and environment and energy from the trend for activity-based working (ABW*1), which is becoming more common in the "new normal" work conditions. The move toward ABW is generating strong interest for our centralized air conditioning systems designed with individualized HVAC controls for cellular office layouts. We also launched a collaboration to develop green transformation (GX) solutions for air conditioning control technology that will contribute to making a carbon neutral*2 society.
The Advanced Automation business introduced the online anomaly detection system for improving equipment safety and productivity. The business also contracted to provide its control valve maintenance support system, to major energy and chemicals companies. The AA business is expanding its AI and cloud technology applications to offer a wider array of services providing support through all stages of customer businesses.
The Life Automation business introduced new platform services using smart meters and networks in the energy management field. The services provide visualization of energy usage and emissions, such as greenhouse gas emissions, using DX-EGA, the business concept developed with Takaoka Toko Group for providing value to clients via detailed energy data on electricity, gas, and water.
*1 ABW is a work style allowing employees to choose the optimal environment, location, and time to work.
*2 Carbon neutral is absorbing and emitting net zero carbon from the atmosphere.
Q3. What challenges do you face for continuing the company's transformation and expanding the three growth fields?
A3. We plan to continue broadening our customer base and contact points through collaboration and other methods, strengthening our AI, cloud, and MEMS*3 technologies, and enhancing the application range and value-added of our product and service offerings.
The medium-term plan outlines several initiatives for accelerating our business growth momentum. The five main initiatives are to increase investment to strengthen our product and service development capabilities, increase contact points with customers, expand business by addressing social issues, strengthen employee capabilities including boosting digital transformation (DX) proficiency, and form strategies to establish continuous profit margin growth.
Investing to enhance the functions of the Fujisawa Technology Center, our lead site for R&D, is amplifying our ability to develop new products and services. We are enhancing our facilities to enable the center to develop leading-edge system solutions with advanced AI and cloud technologies, which are critical to our growth strategy, and to further advancing our high-performance, high-precision MEMS sensor technologies. At the same time, we are taking steps on the product side to establish continuous profit margin growth, such as introducing lower production costs when updating our main products. On the production side, we are working to improve profit margins by creating a global production system with the Shonan Factory as the mother factory and increasing the ratio of production conducted overseas.
We will also implement measures specifically aimed at expanding our business in the three growth fields. While developing businesses geared to meeting the new needs of society, we will also pursue collaborations with an eye to increasing our contact points and expanding our customer base. As we implement these measures over the next several years, we will continue developing and advancing the DX technologies where we have demonstrated success and have established a competitive advantage.
*3 Devices built using microfabrication technology to integrate sensors, actuators, and electronic circuits on substrates
Leveraging GX to advance toward carbon neutrality and expand the environmental and energy field
Current technologies and mechanism do not provide all the answers for social issues, such as for achieving carbon neutrality, and a single company cannot solve the problems on its own. Rather than relying solely on proprietary technology and products, I believe collaborative projects among multiple companies both in Japan and overseas are more important than ever.
We established the GX Solution Department in April 2022 to advance our development of green solutions and technologies and pursue collaborations. Green transformation, or GX, is the total transformation of an economic and social system in order to reach carbon neutrality. The GX Solutions Department will lead the expansion and strengthening of the Group's GX operations to raise them to a new level and to widely promote our GX initiatives through collaborative partnerships in Japan and abroad so we can make a greater contribution to our customers and to society.
In 2022, we launched a collaboration project to develop air conditioning control systems with Daikin Industries and four NTT group companies—NTT Urban Solutions, NTT Facilities, NTT Urban Development, and NTT Communications. Each company is providing their unique technologies and expertise to construct air conditioning control systems for regulating and reducing CO2 emissions from office buildings and other large structures. We believe the project has promise for offering GX solutions in the air conditioning field that can make a meaningful contribution toward achieving a carbon neutral society.
Advancing our DX and fortifying our system solutions and cloud businesses
The digital transformation, or DX, of our operations and processes is essential to the success of every one of these strategic measures.
The value of the azbil Group's automation technology and solutions expertise is our ability to identify and address our clients' true issues. We gather data using sensor gauges installed at the client's production site, use cloud, IoT and AI technology to analyze the big data and find the optimal conditions for producing the client's desired outcome. We then continue the analysis until we deliver an actionable solution that is fully operative at the site. In short, our business uses data to transform our clients' operations. For us to continue expanding our three growth fields and engage in more collaborations with other companies, we will need to integrate DX even deeper into all of our processes from data analysis to actionable solutions, while also strengthening our abilities to deliver system solutions and utilize cloud technologies.
Another way we are harnessing the Group's strengths to advance our growth strategies is by augmenting the functions of the Fujisawa Technology Center to strengthen our product development capabilities and enhance the efficiency of our R&D operations. With two new laboratory buildings equipped with state-of-the-art development and testing facilities and featuring work environments optimized for ABW, the augmented center will boost our ability to create the new business and new ways of working that will bring about the Group's transformation.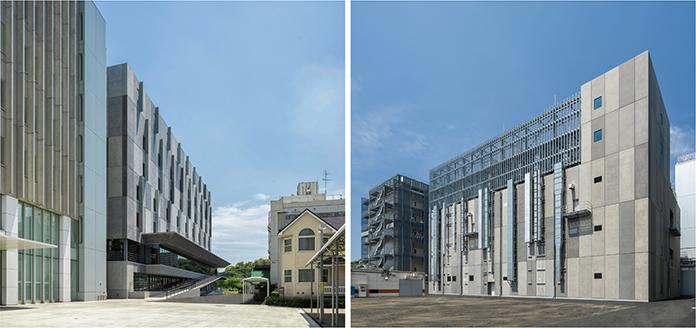 Newly constructed laboratory buildings at the Fujisawa Technology Center, the Group's central R&D base (completed in May 2022)
Building No. 103 (left) provides state-of-the-art facilities for conducting experiments in an optimal environment to fully accommodate the creativity and innovation of individual and team research projects. Building No. 104 (right) houses a measurement standardization laboratory and the facilities such as development and production clean rooms for the development of the MEMS sensors that are the heart of azbil Group sensing technology. Constructing an advanced environment for R&D requires a robust cleanroom design for semiconductor production and highly controlled temperature and humidity levels, both of which need equipment and facilities that consume high amounts of electricity. However, by incorporating various energy-saving measures based on the technology, know-how, and accumulated data of our Building Automation business, we have achieved energy consumption levels that are much lower than those of other buildings with the same energy-intensive functions.
Q4. How is the azbil Group integrating sustainability and ESG into its operations and medium- to long-term plans?
A4. We have set our Group sustainability policy and created our own set of goals for the SDGs designed to contribute "in series" to supporting a sustainable society and to increasing our enterprise value.
Creating our Sustainability Policy
Regarding our idea of sustainability, we are committed to continuously enhancing enterprise value based on mutual trust with stakeholders, to realizing "safety, comfort, and fulfillment in people's lives" and contributing to global environmental preservation, and to contributing "in series" to a sustainable society. These are achieved through practicing our Group philosophy of "human-centered automation" and respecting the values to contribute to society for people's well-being based on the founding spirit of "freeing people from drudgery." We are advancing several initiatives that address social issues and contribute to sustainability by applying this policy. When we created the sustainability policy in fiscal 2021, we identified 10 material issues to be tackled over the long term that need to be addressed to create a sustainable society and to raise our enterprise value in the medium and long term.
Our activities in the environmental and energy field are directly aimed at achieving our SDG targets.
One of the key elements of our sustainability efforts is addressing social issues through our businesses, such as with environmental measures to mitigate climate change and by introducing new automation solutions and offering solutions geared to society and customer lifecycles. Through these efforts, we seek to do our part to help society achieve the international SDGs for a better and sustainable world. Our enterprise value derives directly from the success we have using our automation technologies to attain the SDGs by helping address climate change, creating sustainable cities and communities, improving industry, innovation and infrastructure, creating decent work and generating economic growth. Simply put, we align our operations with the United Nations SDGs and grow our business by providing automation technology that helps achieve those goals and create a sustainable society. To ensure our activities are implemented to full effectiveness, in fiscal 2020, we set our essential goals of the azbil Group for the SDGs with four essential goals, specific targets and indicators.
The environment and energy field is front and center of our efforts, and we have made it one of the three growth fields that the Group is focusing on. While we help clients to meet their CO2 emission reduction targets, we also view numerical targets as always being fluid, and we review and update them as we make progress and as new technologies enable us to look beyond to even better performance in the future. In fiscal 2021, the Science Based Targets initiative renewed its approval of our targets for their Business Ambition for 1.5°C. In fiscal 2022, we added specific environmental targets for our product designs.
The social element of ESG is indispensable for sustaining growth, and we are advancing initiatives to enhance human capital.
We are also actively working to strengthen our environment, social, and governance (ESG) as a key element to generating sustaining growth for our company. In addition to the environmental activities described above, I would like to step up our efforts in the social domain, specifically concerning human capital and human rights.
Our approach to human capital is embodied in our concept of Health and Well-being Management under which we seek to create a work atmosphere where employees are healthy, happy, and lively. In addition to designing work environments where employees can thrive, we also seek to engage people with global business skills and various abilities and provide education programs worldwide. We envision a virtuous cascade in which a diverse makeup of employees who feel satisfaction and a sense of growth in their work are more creative and productive, which then leads to rising enterprise value. To promote this vision, we have created point systems to recognize the advancement of women in the workforce and to encourage employees to participate in educational opportunities. In addition, following the medium-term plan's objective to transform the company, we are creating new ways of working by overhauling our work mechanisms, work styles, and work sites and environments. The new Fujisawa Technology Center laboratory buildings are prime examples of our efforts to create new and vibrant environments for R&D and other operations.
As we advance the Group's global expansion, human rights are an issue of the highest priority. We are fully committed to ensuring human rights for all individuals associated with our business activities. To substantiate our commitment, in 2021 we endorsed the United Nations Global Compact and initiated measures following the compact's Ten Principles governing human rights, labor, the environment, and anti-corruption. We will be stepping up our efforts in these areas as I believe ensuring human rights is more important than ever in the current geopolitical situation.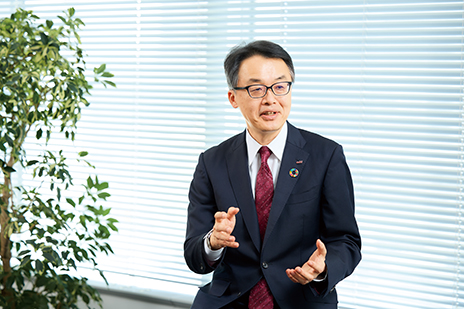 Q5. Why did the company adopt a company with a three-committee Board structure?
A5. The new structure will enable us to better meet the expectations of our shareholders and all stakeholders and give us greater flexibility to respond to even major changes in the business environment.
The separation of business supervision and execution will be more clear, and our decision-making processes will be faster and more transparent.
The azbil Group sets fortifying corporate governance as a management priority and considers vigorous governance to be vital to enhancing enterprise value. A recent focus has been implementing measures to strengthen the supervisory and auditing functions of the Board of Directors, improve the management transparency and soundness, and clarify the structure of responsibility for the execution of duties.
Governance was strengthened significantly this year when the Ordinary General Meeting of Shareholders held on June 23, 2022 approved the transition from a company with Audit & Supervisory Board to a company with a three-committee Board structure.
The new corporate structure with three separate committees for executive nominations, remuneration, and auditing will have multiple benefits, particularly as we deal with the increasingly rapid changes the Group's business environment. The clear separation of supervisory and business execution functions will enable us to better ensure the transparency and soundness of management decision-making while also improving our ability to quickly identify and take actions on present and future business opportunity and risk.
The azbil Group has set long-term targets for fiscal 2030 and is advancing its medium-term plan to achieve growth by using its automation business to contribute "in series" to the achievement of a sustainable society. The process leading to the decision to adopt the new structure included intense discussion covering all aspects of the change by the Board of Directors. My view was that we need a structure that incorporates diverse opinions from outside directors and strong management supervisory functions in order to generate the growth needed to attain our targets and to effectively respond to changes in the business environment. At the same time, the structure must facilitate swift execution of management decisions.
I believe stakeholders will recognize the benefits of the new structure as management navigates through even more dramatic changes that may lie ahead in the business environment.
Stock compensation plan for directors, corporate executives, and executive officers
With the adoption of the new corporate structure, we also initiated a stock compensation plan using a trust fund ensuring high transparency and objectivity with the aims of sharing value with stakeholders and providing ongoing incentives to managers to raise enterprise value. The stock compensation plan structured for corporate executives and executive officers provides incentives to work toward attaining the Group's business objectives by linking their compensation to business performance.
Completing our medium-term plan will require both employees and executives to be fully invested in carrying out the plan's strategies and in working toward raising enterprise value over the medium to long term. To that end, we introduced the Trust-type Employee Shareholding Incentive Plan (E-Ship®) as an addition to the Employee Stock Ownership Plan (J-ESOP) introduced in 2017. Although structured primarily as a welfare plan, E-Ship adds another link to the company's share price and will align both management and employees toward the same objective of raising the Group's enterprise value over the medium to long term.
(Reference) E-Ship® is a trademark of Nomura Securities Co., Ltd.
Q6. What is the company's policy on shareholder returns?
A6. We intend to continue raising our dividend distribution as well as buying back and cancelling shares in accordance with our capital policy to maintain adequate funds in considerations of the medium- to long-term business outlook.
We are committed to maintaining a disciplined capital policy aimed at attaining our long-term target of return on equity (ROE) approx. 13.5% while maximizing shareholder value through a balance of enhancing shareholder returns, investing in growth, and maintaining a sound financial foundation. Shareholder return is a management priority. Our basic policy is to maintain a consistent dividend distribution and to raise dividends while considering the overall circumstances of our consolidated business performance, dividend on equity ratio (DOE), ROE, and the strategic need to ensure adequate internal reserves to develop businesses and maintain a sound financial foundation.
Following our basic policy, we have determined to distribute the planned year-end dividend of ¥30 per share, bringing the annual dividend payment to ¥60 per share for fiscal 2021. In consideration of our medium- to long-term outlook, the current business conditions given the current parts procurement difficulties and other factors, and our forecasts for growing business and improving performance, we plan to raise the dividend distribution by ¥5 per share for a full-year dividend of ¥65 per share in fiscal 2022. During the year, we carried through with our disciplined capital policy by cancelling 1.5 million shares of treasury stock and continuing our plan to repurchase ¥10 billion worth, or up to 4 million shares, of the company's outstanding common stock (as of July 31, 2022).
Management will continue to pay close attention to the cost of capital to better enable us to make decisions that contribute to raising enterprise value and meet investor expectations for shareholder return.
Q7. Is there a message you would like to share with stakeholders?
A7. We will continue to transform the Group so we can make a meaningful contribution to creating a sustainable society.
Our Group philosophy of "human-centered automation" is also at the center of our efforts to build relationships of trust with stakeholders. We seek to continuously build our enterprise value and contribute "in series" to achieving a sustainable society while helping provide safety, comfort and fulfillment in people's lives and contribute to global environmental preservation.
Society is facing several serious issues, including climate change, the coronavirus pandemic, material and product supply disruptions, and the situation in Ukraine. We believe the Group's "human-centered automation" and our approach of "creating value together with customers at their sites" are more important than ever.
At the same time, for us to continue providing "value at the customer sites," it is essential that our Group continues to transform in various ways. Our product development must incorporate design concepts based on sustainability. As we grow as a business, we must include and respect diverse and talented human resources from around the world. Our pursuit of sustaining business growth should bring in teams from outside the Group when that is advantageous and should be boosted by active and collaborative involvement of talented human resources and teams from outside. And, last but not least, management must be transparent, fair, and sound with its decision-making as we seek to achieve the medium-term plan and our long-term targets.
We will continue advancing the Group's transformation so we can establish consistent and sustaining business growth. We also will engage in open communication, dialogue, and collaboration with stakeholders in Japan and worldwide as we seek to grow the azbil Group and contribute to the creation of a sustainable society.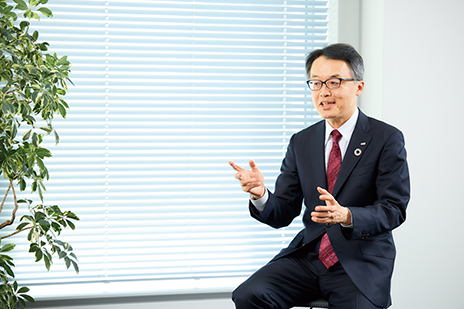 Related Information
Support