Shareholders' Meeting and Investor Relations
azbil strives to build relationships of trust with its shareholders and investors through timely and appropriate disclosure of information and proactive dialogue.
Ensuring the sound management and proper evaluation of the company is not only a matter of disclosing information in a timely and appropriate manner, but also of making effective use of the opinions and requests of shareholders and investors.
Accessible Shareholders' Meetings
To make sure that many shareholders can participate, we avoid holding our annual shareholders' meeting on a day when many other companies are holding theirs. In addition, the venue is conveniently located close to Tokyo Station. During the meeting, explanations of the company's financial status are made easier to understand via the use of projected visual aids. In the year ended March 2012, to assist shareholders in exercising their voting rights, we began using color and graphics in our Notice of Convocation, as well as including a message from the president and CEO concerning the management's vision and direction. In addition to sending the notices as early as possible and publishing them on our website before they are sent, we are putting in place an environment that will enable a wide range of investors to use an electronic voting platform, quickly obtain information concerning the annual shareholders' meeting and exercise their voting rights.
The Ordinary General Meeting of Shareholders for the year ended March 2015 was attended in person by 174 shareholders, and almost 90% of shareholders exercised their voting rights.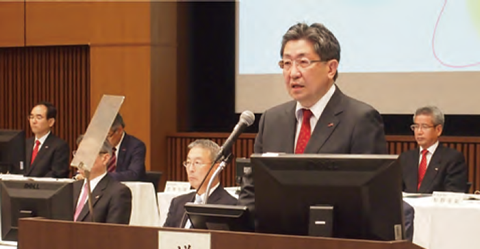 President Hirozumi Sone giving a briefing at the Ordinary General Meeting of Shareholders
Enhancing Communication
In addition to establishing the Investor Relations (IR) office to handle IR full time and formulating communication plans, we are attempting to enhance communication by putting in place various tools to assist investors in making decisions, including the IR website (providing information for shareholders and investors), the annual report (this publication), and the Fact Book. In the year ended March 2015, in addition to participating in conferences organized by securities companies within Japan and overseas, company staff and officers met with various stakeholders, such as investors, for articles or feature stories, and took the opportunity to participate in discussions in more than 200 meetings and briefings in order to promote understanding of our company and gain valuable insights into the views of others. We regard the opinions gathered through such dialogue as valuable information for making decisions concerning management issues.
At our half-yearly briefings on the company's financial results, the president personally explains the results and welcomes questions from institutional investors. In addition, following the announcement of our quarterly financial results, managers from each business segment and staff in charge of the company's financial affairs hold briefing sessions for analysts from securities companies.
Prompt Disclosure
To facilitate timely and appropriate disclosure, information about such matters as shareholders' meetings, financial results, and the updating of IR tools is posted promptly on the IR website. In addition, we offer an IR information e-mail service that enables subscribers to receive information as it is announced. We will upgrade our IR website in the year ending March 2016 to enhance the information provided and improve its searchability and uniformity.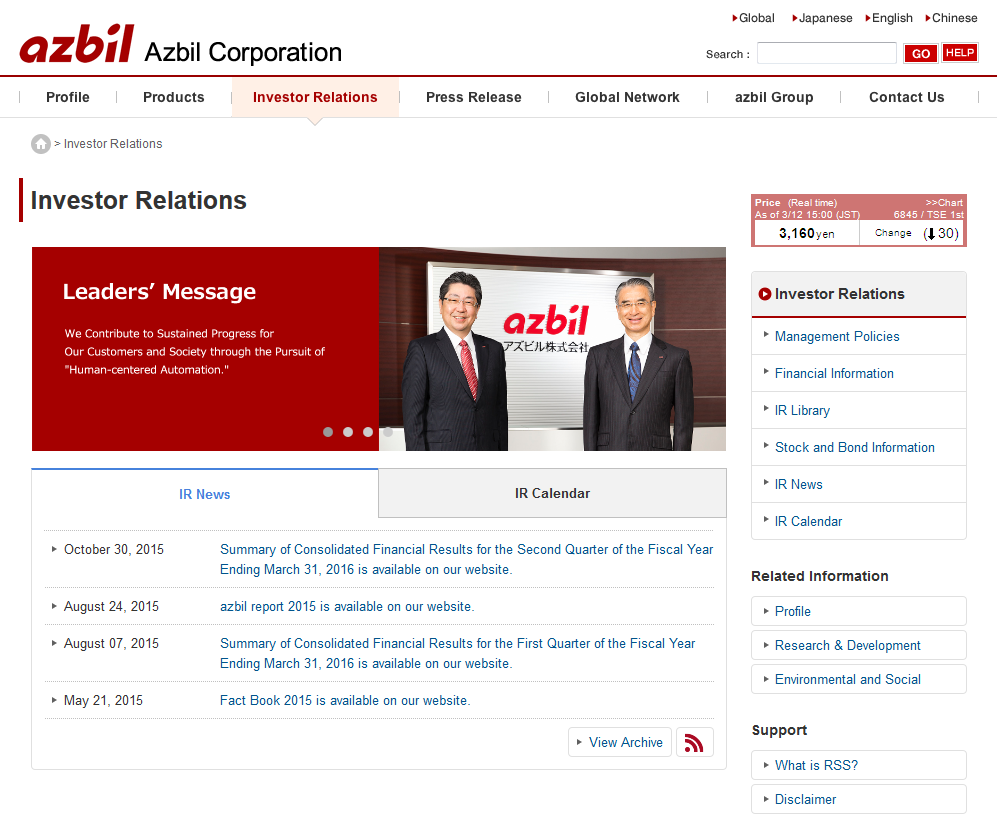 IR site (This page)
Inclusion in SRI Indexes