Interview with the CEO

Q1 Please give an overview of the year ended March 2017, the final year of your previous medium-term plan.
Taking measures linked to medium- and long-term growth, we achieved a year-on-year increase in operating income for the fourth consecutive period and ROE above 8%.
In the year ended March 2017, the azbil Group posted consolidated net sales of ¥254.8 billion, down 0.8% year on year, impacted mainly by the yen's appreciation and reforms of business through restructuring measures. Nevertheless, initiatives under our previous medium-term plan, covering the year ended March 2014 through the year ended March 2017, bore fruit, with consolidated operating income jumping by 17.6% year on year, to ¥20.1 billion—close to a record-high figure exceeding our initial forecast published on May 13, 2016.
Looking back at over the four years of the previous mediumterm plan, the decision to host the Tokyo 2020 Olympic and Paralympic Games sparked brisk activities related to urban redevelopment and infrastructure projects, but capital investment in the domestic manufacturing sector remained weak. Overseas, the business environment changed dramatically amid economic slowdown in China and other emerging economies.
Under these circumstances, we did not achieve the consolidated targets of the previous medium-term plan (consolidated net sales of ¥280 billion and operating income of ¥22 billion) announced in May 2013. However, we responded flexibly to the changing business environment, such as by personnel reallocation and business structural reforms, resulting in a year-on-year increase in operating income for the fourth consecutive period and ROE above 8%.
By segment, the Building Automation (BA) business benefited from the upgrading of systems in anticipation of demand to retrofit existing buildings after the 2020 Tokyo Olympics and Paralympics, in addition to firm demand for new building construction in Japan. We also promoted our life-cycle business, further solidifying our stable revenue base.
In the Advanced Automation (AA) business, we adopted an operating system classified into three sub-segments*. Under this system, we subdivided the market further and leveraged the azbil Group's unique strengths to concentrate on domains in which we can deliver added value. In these ways, we targeted profitability improvement and business expansion, achieving a particularly good outcome with respect to improvement of earnings.
In the Life Automation (LA) business, our third core business segment, we undertook drastic structural reforms to rebuild our business, and we upgraded infrastructures to facilitate measures aimed at business expansion.
Looking at global expansion, overseas sales in the year ended March 2017 totaled ¥43.4 billion, or net sales ratio of 17.0%. Accordingly, we did not reach our overseas sales ratio target of 20%. In addition to the yen's appreciation, this was mainly because of partial reorganization of our businesses in China and of Azbil Telstar in Spain. Nevertheless, overseas sales have increased around two-fold over the past four years. The aforementioned 20% figure is not a goal in itself, but a yardstick for building a foundation aimed at full-scale expansion of our overseas business. I believe we are well positioned for the future.
During the last several years, we also took measures to support the sustained growth of the azbil Group. For example, we upgraded various types of infrastructure, including a production and development system, core information system, and personnel system (to foster and reassign human resources). We also continued efforts to strengthen corporate governance.
* Three sub-segments
CP Business: Control Products business (component business handling digital instrumentation equipment, micro switches, sensors, combustion control equipment, etc.)
IAP Business: Industrial Automation Products business (component business handling industrial instruments, transmitters, automatic control valves, etc.)
SS Business: Solution & Service business (control systems and service/maintenance business)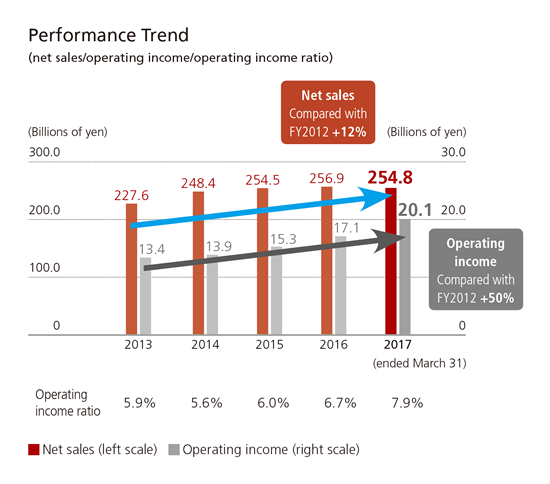 Q2 Please describe the fundamental policies of the new medium-term plan in light of your longterm objectives for the year ending March 2022.
We will step up initiatives related to existing fundamental policies to a new level, while reforming business structures and strengthening the corporation in order to maximize results.
First, I will touch on what the azbil Group regards as its mission— the core of its long-term objectives. The Group was founded in 1906, when Japan's industrial society was emerging. For more than 110 years since then, through the pursuit of automation, we have sought to "liberate people from drudgery" and improve their comfort and productivity levels, evolving into a corporate group that creates contentment for people. In 2006, we formulated our "human-centered automation" philosophy and established "azbil" (automation zone builder) as our new Group symbol embodying those ideas.
When I assumed the post of president, we cited three fundamental policies under the Group philosophy in our quest to achieve sustainable growth in the future: (1) Being a longterm partner for the customer and the community by offering solutions based on our technologies and products; (2) Taking global operations to the next level by expansion into new regions and a qualitative change of focus; and (3) Being a corporate organization that never stops learning, so that it can continuously grow stronger. I feel we have made an impact with these policies, which we will continue and step up over the course of the new medium-term plan, which began in April 2017. In so doing, we will steadily capture growth opportunities in businesses in relatively robust environments. We will also maximize the outcomes of structural reforms and corporate structure reinforcements undertaken to date. At the same time, we will make full-scale advancements into new business areas earmarked for future growth, based on the keywords of life cycle, new automation, and environment and energy. We have set the following consolidated targets for the year ending March 2020: Net sales of ¥270.0 billion, operating income of ¥25.0 billion, and ROE of 9% or more. Moreover, we will continue striving to enhance corporate governance, compliance, and human resource development, which are deeply related to corporate sustainability.
In addition, we will actively promote measures and establish frameworks with a view to business advancement in the year ending March 2022 and beyond. After the 2020 Tokyo Olympics and Paralympics, it will be time to retrofit largescale buildings. Meanwhile, new technologies, such as AI and IoT, are emerging. In addition to achieving our targets for the year ending March 2020, I would like to position the next three years as a period of building foundations aimed at sustaining high levels of earnings from medium- and longterm perspectives.
Q3 What are your basic strategies for each business segment?
In the BA business and AA business, we will respond flexibly to changing business conditions and customer needs to target profit growth. At the same time, we will make the LA business a more profitable segment.
Building Automation (BA) Business
Ensure steady job fulfillment for new buildings while strengthening responses to demand for existing building retrofit
In the BA business, we expect the business environment to remain firm as we approach the 2020s. Preparation for the upcoming Olympics and Paralympics and urban redevelopment projects are progressing in the Tokyo metropolitan area, and from 2020 it will be time to retrofit buildings constructed during the "real estate bubble" period of the 1980s and those built early in this century. Some projects have been postponed due to rising costs associated with the redevelopment boom and labor shortages, so we expect further growth in demand for retrofits in the future.
Given this outlook, we will put in place a steadfast system to enable processing of required jobs within reasonable work hours by carrying out work-style reforms. In preparation for a round of redevelopment projects after the 2020 Olympics and Paralympics, we will submit retrofit proposals in a proactive manner.
Over the next three years, we will steadily undertake new construction projects while proposing retrofit projects for existing buildings with good profitability. We will also expand new services in energy management and for the life cycle of facilities. At the same time, we will strive to broaden our overseas business, where we are highly regarded owing to our local track records, and we will aim to improve the efficiency of job fulfillment to enhance profitability.
Advanced Automation (AA) Business
Respond strategically to both mature and emerging markets
In the AA business, we have an integrated system covering everything from marketing to development, production, and sales and services according to our three sub-segments: CP, IAP, and SS. Under this system, we will seek to improve profitability in mature markets and expand businesses in overseas and growth markets.
Even in so-called mature markets, such as the domestic petroleum and chemical industries, we will focus on stable demand, including for maintenance and equipment replacement, emphasizing efficient responses to generate secure income. On the other hand, new needs are emerging in such areas as plant security and advanced preventative maintenance support, opening up possibilities for new domains using IoT and AI. In these domains, we will deploy proprietary technologies to promote collaboration with partner companies and respond with speed.
In emerging markets, such as domestic and overseas semiconductor manufacturing equipment and high-performance materials production equipment, we are receiving more and more inquiries about the azbil Group's one-of-a-kind technologies. We will focus human and other managerial resources on these areas to accelerate the development and introduction of new products and applications.
Meanwhile, demand for energy conservation is increasing across all industries, both in Japan and overseas. We will focus particular attention on the energy management business, where we excel. In addition to tackling these initiatives, we will upgrade our overseas production system to further strengthen profitability.
Life Automation (LA) Business
From establishment of profit structure to expansion of business
In the LA business, positioned as our third core business segment after our conventional BA business and AA business, we are advancing our operations in the fields of lifeline utilities such as gas and water, Life Science Engineering (LSE) for pharmaceuticals and research facilities, and also residential central air-conditioning systems. While building up our experience in these new fields, we have promoted business structural reforms and made significant progress on the profit front. Going forward, we will promote another round of improvements to establish a stable business foundation as we target the next stage of our evolution—expansion of the LA business.
Our short-term growth strategy is to deploy the azbil Group's synergies to uncover business opportunities in the energy supply market, including for gas, where the business environment is expected to change due to liberalization. We will also strive to develop new products and expand new services to address changes in the global pharmaceutical manufacturing market.
Q4 What are your thoughts on global expansion to spearhead future growth?
We will actively increase overseas sales of products and applications that are valued highly by customers in Japan.
For global expansion, one of our fundamental policies, we have been establishing overseas operations, developing products and services according to overseas specifications, and building a production system that enables us to provide products closer to our local customers. The next stage, I believe, is to make further advancements to products, applications, and services with high customer value that was cultivated on site, and to familiarize them to global companies developing their businesses worldwide, as well as local-capital enterprises.
In the BA business, we have built relationships in recent years with local-capital building owners, as well as construction distribution-related companies, in various Asian countries. This has created a virtuous circle enabling us to attract orders for new development projects. It is also now recognized that life-cycle services are crucial to maintaining the asset value of buildings, and there are growing movements in various countries to set up energy efficiency standards, such as Green Mark. The azbil Group's unique capabilities can be leveraged in this changing business environment. Under these circumstances, we are confident that we can use our domestic business model, including for services, for global expansion. Specifically, we will develop and introduce new products and utilize our remote maintenance infrastructure, developed during the period of our previous medium-term plan, to propose and deliver high-quality services on a par with those we offer in Japan.
Our AA business, which we developed overseas ahead of our BA business, is now making contributions to both revenue and earnings. To increase sales, we will provide our competitive products, technologies, applications, and services, which are highly evaluated in the domestic market, to Japanese companies operating in emerging economies, including China and elsewhere in Asia, as well as to local materials-related companies, such as petrochemical, and local equipment manufacturers in those countries. We will also work to expand sales to advanced equipment manufacturers operating in North America and Europe.
In these ways, we will actively advance our business overseas, taking advantage of the azbil Group's ability to offer everything from products and systems to services in each business. To further enhance our solutions capabilities, we will work to build partnerships with domestic and overseas companies that have strengths in products, sales, and service networks.
Q5 How do you plan to reinforce your business foundation for sustainable growth?
We will continuously reinforce Group governance while strengthening infrastructures, with emphasis on the production and development system, advanced technology responsiveness, sales prowess, and product appeal.
In the year ended March 2016, we announced our plan to integrate our domestic production bases and consolidate and reinforce our research and development facilities, and we will steadily advance this plan towards its completion in the year ending March 2021. While this will incur total estimated investments of around ¥8 billion, we expect the plan to eventually deliver cost reduction benefits of about ¥2 billion annually.
We also anticipate increasing demand for products and services using AI and IoT. We established the IT Solutions Headquarters to handle development and marketing of products and services featuring these advanced technologies, and going forward we will expand and strengthen our team of development technicians while making proactive research and development investments.
In addition to reinforcing infrastructure with respect to technologies, production and development systems, and the like, we will continue looking at M&A and other ways to build a flexible sales and service network and enhance our product lineup. To date, we have embraced M&A opportunities in Japan and overseas, resulting in the formation of Azbil Kimmon Co., Ltd., which is already contributing to the Group's stable profits, as well as Azbil Telstar, S.L.U., which is making efforts to establish a stable earnings structure. Utilizing our built-up experience and know-how, we will steadily pursue any means necessary to achieve sustainable growth, with M&A as an alternative.
On the other hand, expediting global expansion will require unified control of our various business activities, irrespective of region, as well as reinforcement of frameworks to ensure swift decision-making. Therefore, we will incrementally introduce our core information system, commissioned in 2015 in Azbil Corporation, into other Group companies at home and overseas.
Q6 You increased the year-end dividend, with another rise planned in the year ending March 2018, and you have acquired the company's own shares. Please give us your thoughts on shareholder return.
Having made progress in improving our income structure and implementing business structural reforms, we envisioned a path to sustainable growth and decided to increase dividends accordingly.
With a disciplined capital policy, we seek to maintain and improve enterprise value while emphasizing a good balance among three key elements: promoting shareholder returns, investing in growth, and maintaining a healthy financial foundation. With respect to shareholder return, positioned as an important management priority, we maintain a flexible approach, centered on dividends and including share buybacks. Here, we comprehensively consider a range of factors, including levels of consolidated performance, return on equity (ROE), dividends on equity (DOE), and the need to retain sufficient retained earnings to fund future business development and strengthen our corporate structure. We pay particular attention to maintaining active and stable dividends.
In the year ended March 2017, the final year under our previous medium-term plan, we saw good progress with respect to growing our business and reinforcing our corporate structure, as mentioned earlier. For this reason, we had planned to increase dividends by ¥7 per share (included commemorative dividends), disclosed in May 2016. However, we ultimately declared a year-end dividend increase of ¥3, for total annual dividends of ¥77 per share. In conjunction with the adoption of a new "employee stock ownership plan*1," among treasury shares purchased in the past, we disposed of 1 million shares through allocation to a third party and cancelled all of the remainder (865,659 shares).
In the year ending March 2018, the first year of the new medium-term plan, we will focus on reforming our business structure, upgrading infrastructure, and cultivating and penetrating growth fields in order to realize sustainable growth. We will also continue working to strengthen shareholder return and improve capital efficiency. To further emphasize return of profits to shareholders, we will incorporate a ¥5 commemorative dividend into regular dividends, thus increasing regular dividends by ¥5, for total annual dividends of ¥82 per share for the year ending March 2018. With respect to treasury shares, our goal is to implement flexible capital measures aimed at increasing capital efficiency and addressing changes in the business environment. From this perspective, we implemented a plan to repurchase a maximum of 800,000 shares of our own shares with maximum repurchase value of ¥3.0 billion*2.
To continue actively returning profits to shareholders, we have set a long-term ROE target of 10% or more. With this in mind, we will continue pursuing business structural reforms aimed at improving capital efficiency under our new medium-term plan. We will also promote future-oriented growth investments in research and development, capital investment, and M&A to broaden our business domains. At the same time, we will continue maintaining a healthy financial foundation to ensure that we can continue our business and fulfill our supply obligations even in unforeseen circumstances, such as large-scale natural disasters.
*1 Employee stock ownership plan (J-ESOP): An incentive plan aimed at increasing the linkage between the company's stock price/business performance and benefit received by employees; and also raising employee motivation and morale with respect to increasing stock price and business performance. Under the plan, the company grants points to employees according to the company's stock benefit regulations. In principle, employees who retire after meeting certain conditions are given the company's stocks equivalent to the points granted. The treasury stocks disposed of are to be granted to employees when they retire, so it is unlikely that these shares will flow into the stock market at once. For more information on the plan, please see the description of our CSR activities in Q8.
*2 Completion of repurchase of the company's own shares Between May 30 and June 20, 2017, we acquired 714,300 shares for the total amount of ¥2,999 million."
Q7 Please describe how you are strengthening corporate governance to improve corporate value.
We have an executive officer in charge of corporate communications to promote "dialogue" with shareholders and other investors.
We have sought actively to strengthen corporate governance for some time, having appointed our first outside director back in the year ended March 2008. In the year ended March 2015, we increased the number of outside directors to three, constituting one-third of the Board of Directors. Since the year ended March 2016, we have been accelerating these efforts, taking advantage of the opportunity presented by the application of Japan's Corporate Governance Code in that year.
In the year ended March 2017, we appointed an executive officer in charge of corporate communications to promote constructive "dialogue" with shareholders and other investors. With respect to remuneration for directors serving concurrently as executive officers, we have shifted to an incentive-based framework linked to achievement of mediumand long-term objectives, adopting a similar mindset to that of shareholders.
Q8 How does the Group practice CSR-focused management?
We practice it in various ways, including through the introduction of an employee stock ownership plan and contribution to protecting the global environment.
Recent years have seen an increase in movements to evaluate companies based on their ESG (environment, society, governance) frameworks. The azbil Group recognizes that sustainable growth and the creation of corporate value in the medium- to long-term are attributable to the resources and contributions of its various stakeholders. With this in mind, we interpret the concept of CSR to be broader than simply "corporate social responsibility," and pursue ESG-based initiatives accordingly. The azbil Group practices two types of CSR: "basic CSR," meaning fulfillment of our fundamental obligations to society as a corporate citizen; and "proactive CSR," the provision of value to society though our business activities, as well as voluntary social contribution efforts. We practice CSR-focused management, having identified the goals that we should achieve in regard to compliance, risk management (quality and product liability, disaster preparedness, BCP, and information), business management that values people, contribution to the global environment, Group management, enhancement of our governance framework, and contributions to society.
From the perspective of stakeholders, we pursue profit growth and dividend increases to reward our shareholders. For employees, we actively undertake "work-style reforms" aimed at raising their productivity and giving them a good work-life balance, and we also decided to introduce an employee stock ownership plan. While the plan is part of our welfare policy, it is designed to encourage efforts to improve our business performance, with individual employees sharing the same values as shareholders and thus having a strong interest in our financial results. We also work constantly to help resolve social issues, such as reducing CO2 emissions and saving energy at customers' sites, through our Group philosophy of "human-centered automation."
In addition to these efforts to combine corporate value enhancement with CSR, we established the Azbil Yamatake General Foundation to support new technology development and young people, our future leaders. Through its "Asunaro Friendship" program, the Foundation promotes harmonious coexistence with society by launching initiatives to foster the sound growth of young people and technological advancement. Going forward, we will practice CSR-focused management unique to the azbil Group from an ESG perspective, pursuing more in-depth initiatives aimed at meeting the expectations of all stakeholders.
Q9 What your performance forecasts for the year ending March 2018, the first year under the new medium-term plan?
We will target sustainable profit growth amid a healthy business environment.
We expect domestic demand for large-scale projects to remain stable in the year ending March 2018. Despite some geopolitical elements of instability, we also anticipate continued strength in capital investment buoyed by economic recovery trends in Japan and overseas. Under these circumstances, we will invest in technological development and production as well as adopt measures necessary for sustainable growth. For the year, we are targeting consolidated net sales of ¥261.0 billion (up 2.4% year on year) and operating income of ¥22.0 billion (up 9.2%). Thanks to business structural reforms and initiatives to strengthen the corporation taken thus far, I am confident that we will make an auspicious start to our three-year plan.