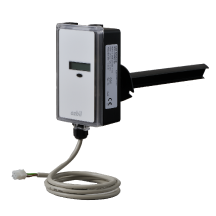 Duct CO2 Sensor
Duct CO2 sensor Model CY8100C1001 in combination with Part No. 83165722-002 is a duct-mount CO2 sensor used for detecting carbon dioxide (CO2) concentration in a duct.
This product is used in a wide range of applications such as monitoring of CO2 concentration in a return duct, control of outdoor air intake, and so on.
Non-dispersive infrared (NDIR) sensor
Linear output signal in 1 V DC to 5 V DC range
Long-term stability
CE Marking certified product:
Model CY8100C1001 conforms to all the applicable standards of CE Marking.
Feel free to contact us for consultation or inquiries regarding these products.
Online Inquiries
Inquiry Form