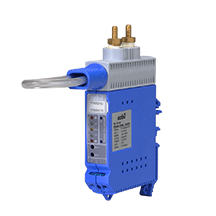 High Accuracy Differential Pressure Transmitter
This product, Model PY1000D_ _ _ _C_, is a high accuracy differential pressure transmitter using the silicon diaphragm sensor.
The product converts the displacement of diaphragm caused by the applied differential pressure to the current signal (4-20 mA) .
The product is used for measuring or controlling room pressure, duct static pressure, etc. for clean room and general air conditioning application. Accurate, compact, and lightweight differential pressure transmitter using the micro silicon diaphragm.
The actuator tool enables to calibrate this sensor using a reference pressure generator and to measure differential pressure from the sensor's output using a pressure meter without detaching a pipe from process.
Output current can be checked using the connection check terminals without detaching the wiring.
Because the zero-point and span do not interfere each other, adjustment can be done easily.
The pressure range of measurement is indicated on the LED in the front of the transmitter.
Feel free to contact us for consultation or inquiries regarding these products.
Online Inquiries
Inquiry Form