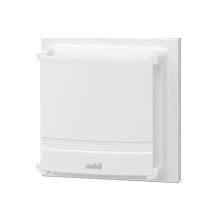 Neosensor
Room Temperature Sensor
Room Humidity Sensor
Room Temperature/Humidity Sensor
Neosensor is a series of electronic room sensors including temperature sensor, humidity sensor.

Neosensor is coordinated in terms of design and dimension with Neostat electronic
room temperature/humidity controller.
Platinum resistance temperature detector for temperature sensing element and polymer
capacitive detector (FP3™ developed by Azbil Corporation) for humidity sensing
element enhance accuracy and reliability of Neosensor sensing.
Neosensor is thus suitable for various applications such as commercial building air conditioning
or other indoor uses.
Note:
* TO see the specification data of the two-wire 4-20mA output model of Neosensor,
please refer to the following document.
AB-7051 Specifications/Instructions:
Neosensor (Two-Wire 4-20 mA Output Sensor)
Room Temperature Sensor (Model TY7043D),
Room Humidity Sensor (Model HY7043D),
Room Humidity/Temperature Sensor (Model HTY7043D).
This document can be down loaded from the "Download" tab.
Feel free to contact us for consultation or inquiries regarding these products.
Online Inquiries
Inquiry Form