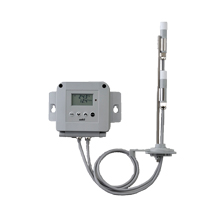 Durable Temperature and Humidity Sensor
The durable temperature and humidity sensor (Model number HTY1000, HTY1010) is a highly precise and reliable sensor using the resistance temperature detector (Pt100, JIS C1604 class A) for the temperature sensor and the macromolecule capacitance type humidity sensor, FP4™ developed by Azbil Corporation.
JIS: Japanese Industrial Standards
In addition to highly precise temperature/humidity measurement, it has functions to detect and recover the drift* caused by the chemical atmosphere in the laboratory or factory facilities.
* Drift is a phenomenon that output error of the humidity element becomes larger due to aging.
Feel free to contact us for consultation or inquiries regarding these products.
Online Inquiries
Inquiry Form