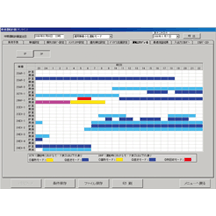 Utility Optimization System
The Utility Optimization System is an energy-saving improvement support system that minimizes CO2 emissions and energy costs in energy production systems, including factory heat source equipment and regional cooling/heating systems (CO2 reduction effect of 5% to 10%).
In an energy production system (calorie, electric power, steam, etc.), it is an absolute must to achieve energy savings, power savings, and energy management under complicated constraints while satisfying the requirement for stable supply. The Utility Optimization System provides an environment that strongly supports stable heat source stable, energy conservation, saving of electricity, energy management, and equipment trend monitoring in an energy production system.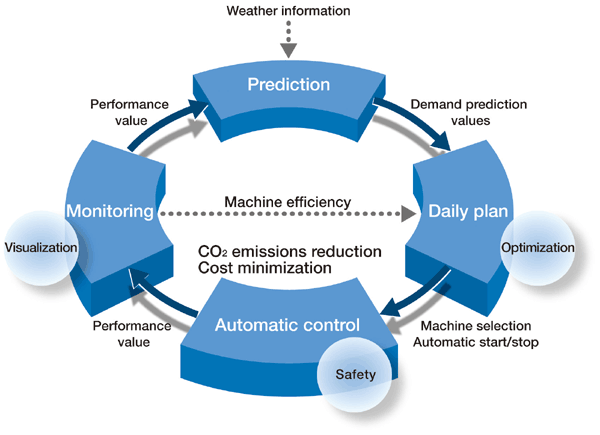 From weather prediction data, atmospheric air condition, and load performance, this system achieves highly accurate load prediction for up to the next 24 hours.
Using an optimization method and using machinery in the latest and most efficient ways, the system helps develop optimum operation plans for boilers, cogenerators, chillers, heat storage tanks, etc., in order to minimize CO2 emissions.
By using the simulation function, it is also possible to improve operation policy, including changing settings and operation manuals, considering heat source control methods, and discussing the introduction of equipment such as chillers and heat storage tanks.
With the energy management function, it is possible to monitor efficiency, assess effectiveness, and further save energy.
Feel free to contact us for consultation or inquiries regarding these products.
Online Inquiries
Inquiry Form