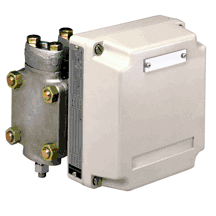 Pneumatic Pressure / Differential Pressure Transmitters
The PREX3000 is a pneumatic pressure transmitter created by combining a vector balance mechanism and involute mechanism. It features excellent resistance to adverse environments, high turndown ratio, high accuracy, and high reliability.
High turndown ratio
The turndown ratio (ratio of the maximum span to minimum span) is 20. By offering an increased measurement range, this low-price medium pressure differential pressure transmitter can cover low differential pressures as well, reducing equipment costs. Additionally, a smaller number of models leads to cost savings for spare parts.
High accuracy
Accuracy is ±0.25 % F.S. or higher, so this product can be used in control applications that require high accuracy.
High reliability
The case meets IEC IP54 and NEMA3R standards.
The meter body has an all-welded structure (except for lowest differential pressure models).
Internal pneumatic piping that causes age deterioration has been eliminated.
Feel free to contact us for consultation or inquiries regarding these products.
Online Inquiries
Inquiry Form