Compliance
As part of our basic CSR, which concerns the fundamental obligations of a company as a member of society, each company in the azbil Group—both in Japan and overseas—is making every effort to raise awareness of compliance issues and to encourage corresponding action.
Corporate Guiding Principles and Code of Conduct
The azbil Group Guiding Principles act as guideposts to steer corporate behavior for the purpose of realizing the Group philosophy. Originally established with a focus on the corporate ethics held by the Group until now, the principles were revised to take into account the changing times, shifting that focus by incorporating factors such as globalization, diversity and inclusion, and the United Nation's Sustainable Development Goals (SDGs). The azbil Group Code of Conduct are standards that emphasize corporate ethics and define the behavior of officers and employees.
azbil Group philosophy, Business Guiding Principles, Code of Conduct
Aiming to practice our Group philosophy for achieving a sustainable society, the azbil Group has created the azbil book (azbil Group philosophy and Guiding Principles) and the code of conduct book (azbil Group's Code of Conduct) and distributed them to employees to deepen their understanding.For global employees,we have translated these publications to ten languages and distributed them globally.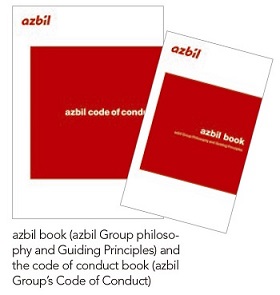 System to Protect Compliance
At the azbil Group, compliance efforts are carried out systematically organization-wide by compliance officers and compliance leaders. The most substantial role in this system is played by the compliance leaders, who are responsible for instilling and guiding compliance in the workplace (through development and education on the Group philosophy, Guiding Principles, and Code of Conduct) and for discovering and reporting risks. In addition, they must correctly convey management's thinking to subordinates, and are required to comply with the Code of Conduct which emphasizes the importance of corporate ethics. Moreover, as a link between management and the workplace, they must cultivate in themselves the ability to detect issues through constant communication with subordinates, and are expected to respond quickly when issues arises by reiterating the importance of corporate ethics in the workplace.
Maintaining and Improving Awarenessabout Compliance
The azbil Group conducts annual training for officers and department heads using external specialist instructors, and officers and department heads are responsible for the continued improvement of compliance awareness throughout the Group.
During the lecture provided to officers and department heads by an external specialist lecturer in October 2019, the themes were compliance and the Sustainable Development Goals (SDGs) needed to better respond to the changing world. The lecture was attended by 196 people.
The lecture provided to officers and department heads
Employee compliance education includes traditional face-to-face education by instructors, in addition to e-learning initiatives. Face-to-face instruction was held 92 times for 3,436 participants, while 6,899 people participated in e-learning.
These efforts allow us to familiarize attendees with the basics, such as the Code of Conduct and other important measures that must be followed, and they also deepen our understanding of the ever-changing issues that arise in connection with compliance.
We conduct annual surveys among all Group employees on compliance awareness and on the state of internal compliance. Those results give us an understanding of the issues that need to be addressed and allow us to implement countermeasures. In fiscal year 2019 (ended March 2020), approximately 11,000 employees (including temporary workers) were surveyed in Japan and overseas. More than 99% of those surveyed recognized the importance of compliance.
We will continue our efforts to improve compliance awareness.
Preventing Legal Risk
The entire azbil Group strives to ensure complete compliance with external laws. In addition to promoting full legal compliance in business activities, the Group provides education related to the law and also addresses legal risk overseas, which is increasing as our global expansion accelerates. Every effort is made to ensure timely and appropriate response to important laws and associated matters, as we endeavor to prevent problems from occurring.