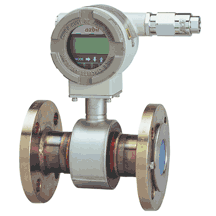 Two-wire Electromagnetic Flowmeter MagneW™ Neo PLUS / Two-wire PLUS+


The MagneW Neo PLUS/Two-wire PLUS+ is the successor to the SMT3000 smart two-wire electromagnetic flowmeter, which was the first of its kind in the world. It is the world's most widely used two-wire electromagnetic flowmeter.
With its patented method of direct current excitation and variable excitation current, power consumption is reduced without compromising the high level of performance. Available in integrated and a remote types, this flowmeter can be used in a wide range of settings, including explosion-proof and outdoor environments.
Two-wire operation raises performance and lowers installation costs.
Far greater performance than the previous two-wire electromagnetic flowmeter, with capabilities equivalent to a four-wire electromagnetic flowmeter (except for use with slurries).
Because it runs on two-wire 24 V DC, it can use the same wiring as instruments such as pressure and temperature gauges, and it can run off of a direct supply from a DCS as well.
Eco-friendly design
Friendly to the environment because it helps to save energy, this flowmeter uses less than 1/100 the power of a four-wire electromagnetic flowmeter.
Compatible with HART® and CommPad communicators as a standard feature.
Communication with CommPad is supported as in previous models. Communication superimposed on an analog signal can be used by selecting the HART® communicator function.
Click here for HART/Fieldbus solutions
Feel free to contact us for consultation or inquiries regarding these products.
Online Inquiries
Inquiry Form