Solaire Resort & Casino
Operation quality of equipment dramatically improved by switching to a proven partner
After that experience, Solaire started the development of the Sky Tower, a 300-room hotel, and related facilities as an extension of phase 1. In consideration of the inconveniences that were experienced at the Bay Tower, Solaire chose Azbil Philippines Corporation as a new partner, and decided to introduce a monitoring and control system built around the savic-net™FX building management system.
"Azbil Philippines has a lot of experience providing monitoring and control systems for equipment in large-scale office buildings and commercial facilities in the Philippines, and Azbil is well known as a superior supplier of building management systems in the Philippines as well as Japan," says Mr. Ordaniel. "We highly evaluated the performance of the company and decided to select it as our partner."
The Sky Tower area facilities opened in December 2014. The new system developed by savic-net FX provides proper control and operation based on accurate temperature measurement, and also prevented the temperature monitoring problem in the Bay Tower area.
"Once the operator sets the room temperature to 24 °C on the central monitoring system, you can keep the room at 24 °C," says Mark Pajid, an operator of the building management system. "Due to this system, customer complaints concerning air conditioning have disappeared. For a resort facility offering a comfortable space for an extraordinary level of enjoyment, accurately controlling the room temperature is very important for customer satisfaction. Also, the monitoring and control screens of savic-net FX are very easy and simpler to use than those of the previous central monitoring system, which has significantly reduced the burden on the operators."
"Achieving proper equipment control based on accurate measurement also contributes to energy conservation," adds Mr. Ordaniel. "In addition, I am convinced that both the hardware and the software of the system are excellent in quality. We monitor the operation of the equipment 24 hours a day, 365 days a year, so it is a great help to our operators when Azbil Philippines so quickly provides the instructions we need if a situation occurs. We are very satisfied with their quick support."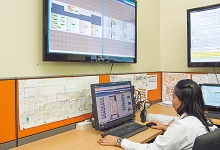 The savic-net FX system monitors and controls the equipment in the Sky Tower area, which was constructed as an extension of the phase 1 project. The intranet of the Solaire Resort & Casino was utilized for the communications for savic-net FX monitoring and control, in order to eliminate the burden of building a new network, as well as to prepare for future extensibility within Solaire.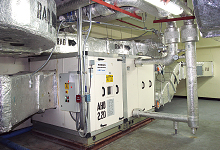 The savic-net FX system manages the operation of an air conditioner for realizing a comfortable environment.
These case studies were published in the 2018 Vol.2 issue of the azbil Group's corporate magazine, azbil.