Solaire Resort & Casino
Envisioning future integration of the monitoring and control system of the facilities
Solaire Resort & Casino has achieved the hoped-for results in the Sky Tower area. It also has a vision of integrating the system used in the Bay Tower area, which began operating earlier, into savic-net FX in the future to enable centralized management of the equipment in both facilities.
"Meanwhile, we are preparing for phase 2 of the project on the same premises following the completion of Bay Tower and Sky Tower, as well as the construction of a new casino resort complex in Quezon City. We will be recommending Azbil Philippines as our partner in these projects as well. In the future, we would like to explore the possibility of integrating the equipment management of all three facilities," says Mr. Pajid.
"Currently, about 3,000 customers visit the facilities we operate in Manila Bay Entertainment City every day. One of our most important missions is to ensure a comfortable environment for all customers. We have high expectations that Azbil Philippines will continue to be a source of strong support for our projects in the future," says Mr. Ordaniel.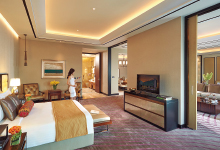 A hotel room in Solaire Resort & Casino. Azbil's monitoring and control system provides an optimal environment, making guests comfortable during their stay.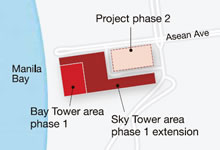 The development project of Solaire Resort & Casino
savic-net and savic-net FX are trademarks of Azbil Corporation.
These case studies were published in the 2018 Vol.2 issue of the azbil Group's corporate magazine, azbil.