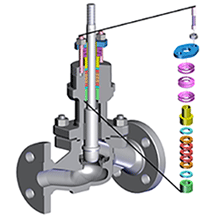 Optional Selection
This page introduces Azbil's standard gland packing specification.

Additional specifications for gland packing that complies with VOC (volatile organic compound) regulations, which have become increasingly strict in recent years, and additional specifications for the bellows seal option for safe control of high-risk fluids are provided separately.
Feel free to contact us for consultation or inquiries regarding these products.
Online Inquiries
Inquiry Form