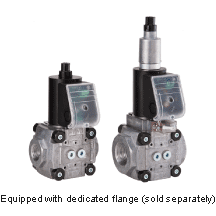 High-Performance Gas Solenoid Valve for Industrial Applications
Model GV-A_ _ _

GV-A high performance industrial gas solenoid valves are used for safety shutoff of the gas supply to gas burners and gas combustion furnaces.
Valves in this series are made by the German firm Elster GmbH.
Compact solenoid is available with 3 types of valve units and with pipe flanges (sold separately) in a variety of sizes.
Two valve units can be directly coupled using a seal set (sold separately)
3 types of valve unit to choose from. A flange (sold separately) of appropriate size to match the application piping can be selected.
(Note: Flange assembly is done by the customer.)
Maximum working pressure of 50 kPa
Quick-open and slow-open models are available
Quick-open models include a maximum flow adjustment (variable) function. Slow-open models include a starting gas adjustment function and maximum flow adjustment function.
Compliant with EN 161. Certified for SIL 3 and PL e.
Coupled GV-A valves comply with SIL 3 and PL e.
Feel free to contact us for consultation or inquiries regarding these products.
Online Inquiries
Inquiry Form