Subaru Corporation Gunma Oizumi Plant
With an Optimized Maintenance Service, the Plant Operates Dependably at Full Capacity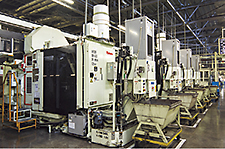 A machining center processes the head cylinder of engines at the production site at Factory 5 of the Oizumi Plant.
Azbil TA inspects the five factories every year, reports the results to the maintenance department of the Oizumi Plant, and at the same time provides comprehensive support, including maintenance plans, parts procurement, and repair work.
"Azbil TA checks the status of each unit from its professional viewpoint as a manufacturer, so it doesn't miss warning signs of a breakdown. The status of all the units is summarized in an easily understandable list. This allows us at the factory to make prompt decisions about repair work," says Norihiro Morita, a group manager in the Maintenance Section 3 Technical Group.
"Replacing a bearing for a main spindle stops production for about 8 hours. That kind of problem, requiring a bearing replacement, used to happen two to three times at each factory per month when the grease lubrication method was used. After adopting the mist lubrication unit, the factories rarely face a main spindle bearing problem that causes the equipment to stop. In addition to this achievement, a maintenance service that prevents equipment failure provides a great sense of security that factory operation will continue to run at full capacity at all times," said Makoto Sugita, a group manager in the Factory 5 Maintenance Group.
The automobile industry is in the midst of change against the background of technological innovation in various areas. Particularly in response to the growing concern for preserving the environment around the world, automobile manufacturers are rapidly developing fuel-efficient, lightweight, compact, and high-performance engines.
"Our company watches industry trends and always strives to understand what kind of next-generation automobiles our customers want. The Oizumi Plant assists the company with production and is also required to continuously improve its production system, so we are looking forward to good support from Azbil TA in the area of facilities," says Mr. Saeki.
glossary
*1 machining center

A machine tool equipped with an automatic tool changer. It can perform different kinds of machining such as milling, boring, and tapping, depending on the need. Mainly used for cutting processes, the tool's magazine stores various cutting tools. With computer control, the machine center can automatically change tools and process parts.
These case studies were published in the 2019 Vol.1 issue of the azbil Group's corporate magazine, azbil.