Sakura City Museum of Art
The Sakura City Museum of Art houses and displays a variety of artwork by artists who are associated with Sakura City or the Boso Peninsula. More than 20 years after its opening, the museum decided to launch an ESCO project to upgrade its increasingly aging HVAC equipment and central monitoring system. The upgrade achieved both energy savings and an air conditioned environment that helps to preserve works of art.
20-year-old equipment upgraded using ESCO project
Sakura City is located about 40 km east of Tokyo. From the 17th to 19th centuries, which was known as the Edo period, it flourished as a castle town in the Sakura domain. Literary and military arts were encouraged, so there are many cultural assets in the city, including warriors' residences that remind one of the Edo period. The Sakura City Museum of Art opened in November 1994 as a main base for stimulating the city's cultural creativity.
The museum stores many works of art by artists connected with the local Sakura and Boso areas, and holds exhibitions that present Japanese modern and contemporary art in addition to various special exhibitions on a regular basis. It also plays an important role in promoting art and culture in Sakura City by offering a place for the city's citizens to present their art.
"To properly maintain the condition of our collections, it is necessary to keep storage and exhibition rooms at a constant temperature and humidity by running air conditioning 24 hours a day, 365 days a year. More than 20 years had passed after the opening of the museum, and its air conditioning, central plant equipment, and central monitoring systems were increasingly aging, so replacing them was an important matter for us," says Museum Director Makoto Shishido.
Sakura City is also known for its early efforts to achieve efficient operation and maintenance of the facilities it owns. A specialized unit called the Facility Management Office was established in 2010. Improving the energy efficiency of city facilities is one of the important missions of the Office.
"The Sakura City government places great importance on environmental and energy-related efforts. It formulated an action plan to combat global warming as a part of these efforts so we needed to implement an equipment upgrade in line with this direction," adds Yuichiro Sugasawa, chief manager of the Office. With this background, and under the leadership of the Office, the Sakura City government decided to upgrade the air conditioning, central plant equipment, and central monitoring system of the Sakura City Museum of Art.
The city government also chose to use an ESCO*1 project, since it offered comprehensive management, including equipment upgrades, maintenance, performance guarantees, and verification of effectiveness.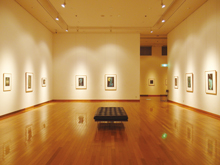 Works of art by local artists are exhibited and special exhibitions are also held regularly.
This case study was published in the 2019 Vol.4 issue of the azbil Group's corporate magazine, azbil.