Kurashiki-Style ESCO Business
Improved efficiency for HVAC equipment and remote monitoring of three facilities
Kurashiki made a public appeal in December 2012 for an ESCO company to handle this project. The following February, a consortium of four companies, Azbil Corporation, Kuraray Techno Co., Ltd. (which operates and manages buildings and equipment for public facilities such as Kurashiki City Hall), Nippon Dengi Co., Ltd. (which makes automatic control equipment), and Hirogin Lease Co., Ltd. (which does financing), formed an ESCO company and was entrusted with the project that would be the city's first ESCO business. "The project proposal included not only the repair of aging equipment and introduction of automatic control, but also the integrated operation and management of buildings and equipment afterward, and that was rated highly," says Kenji Nakatatsu, General Manager for Installation at Kuraray.
Kurashiki was considering implementing an ESCO project utilizing public subsidies, so it decided to apply for support for a business energy efficiency improvement project*2 proposed by Azbil. The project was adopted in May 2014, and construction took place from the fall of 2014 to the end of January 2015. The ESCO service began in April of 2015. As a central feature of the improvements, Azbil's building energy management system (BEMS) was introduced to Life Park Kurashiki.*3 Various energy-saving measures, such as improving the efficiency of heat source equipment for air conditioning, installing new solar power generation equipment, switching to LED emergency exit signs, and measures against aging were implemented for each building.
At Life Park Kurashiki, three ice storage heat pumps and two absorption hot and chilled water generators had been in constant operation for the air conditioning since the building was completed, but as operation continued, the unit price of gas, which fuels the generators, increased. As a result, increasing energy costs had become a problem. Therefore, on normal days when there were no events in the summer, the generators were stopped, and cooling only was done using only ice heat storage and low-priced nighttime electricity. "When there was a concern that the temperature inside the building would rise, such as during an event with many visitors, the operator would pay close attention to the situation and, if necessary, turn on an absorption chilled water generator also. But now, with this project, all existing heat pumps and generators have been replaced with five high-efficiency air-cooled heat pump chillers. At present, Azbil's building management system automatically controls the number of those chillers in operation according to the temperature conditions inside the building, achieving optimal operation. Our labor involved in operations has also been greatly reduced," says Masamichi Okahara, the Director of Life Park Kurashiki. At Life Park Kurashiki, a Kuraray Techno employee is stationed to manage the operation of buildings and equipment, but for the small-scale Kurashiki Fire Department Joint Government Building and Kojima Fire Department, monthly patrols are made by Kuraray Techno.
"All the equipment in the three buildings is remotely monitored with Azbil's comprehensive building management service. Even for the two facilities that are not managed all the time, when something like an equipment malfunction alarm is sent from the local equipment to the central monitoring point, Azbil will notify us and the operator will promptly rush to the site," says Mr. Okahara.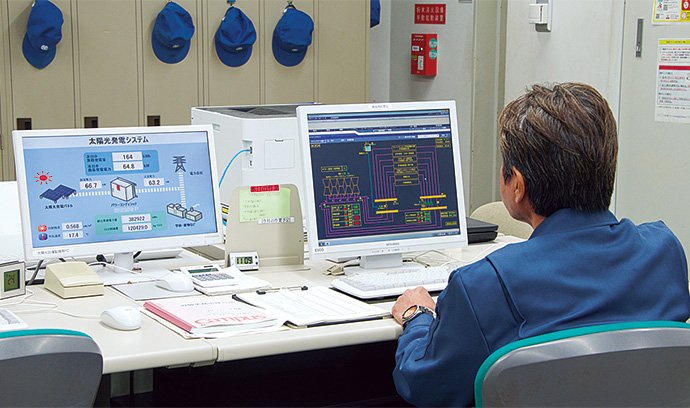 Azbil's building energy management system and solar power generation system in the central monitoring room of Life Park Kurashiki. In addition to monitoring the operating status of equipment in the building, the system collects data such as energy consumption.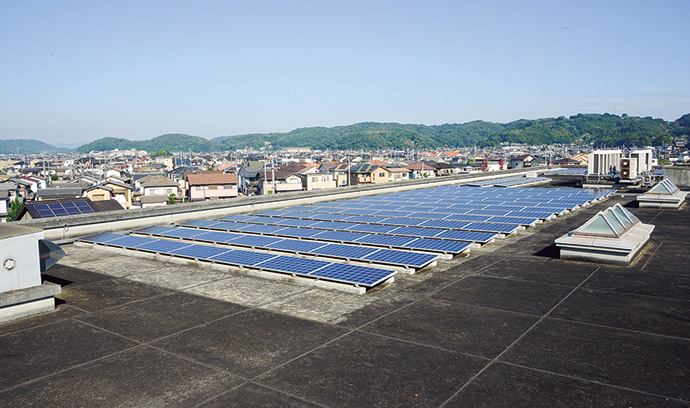 Solar panels installed on the roof of Life Park Kurashiki. The introduction of solar power generation is one of the most attractive features of ESCO business.
This case study was published in the 2021 No.1 issue of the azbil Group's corporate magazine, azbil.