NS Styrene Monomer Co Ltd Oita Works
A system for early detection of valve abnormalities and for malfunction prevention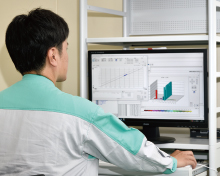 Graphs displayed by the maintenance support system's online control valve diagnosis. Checking the operating status of valves, detecting signs of a problem, and using online or offline valve diagnostic functions can all be done on a PC.
In addition to replacement of the positioners at the four plants at Oita Works, Azbil suggested the use of its control valve maintenance support system. Failure of valve operation at key points in production processes can adversely affect plant continuity and product quality, and can be very burdensome for operators. The maintenance support system collects various types of operating data from smart valve positioners, such as the amount of deviation between the set valve opening and the actual valve opening. By detecting valve malfunctions at an early stage and presenting the information required for making maintenance decisions in an easily understandable way, the maintenance support system supports efficient maintenance operation.
"Previously, operators were not able to notice slight valve abnormalities until they became problems. But with online monitoring using the maintenance support system, it is possible to detect signs of abnormalities in operating valves at an early stage, and quickly take action to prevent problems before they occur. We decided to use the maintenance support system because we thought it would be a powerful tool for stable and safe operation," says Mr. Yamamoto.
In 2013, the maintenance support system was introduced at Oita Works after the positioners were replaced at the divinylbenzene production facility, and monitoring of 50 valves began. Thanks to the information from the upgraded positioners, early indications of valve abnormality proved to be correct, and the system was expanded to all facilities. The maintenance support system is used at each facility that has switched to smart positioners. Specifically, it is used for 150 valves of one system in the two styrene monomer production facilities since 2016 and for 200 valves in the aromatic manufacturing facility since 2018.
"Nowadays we can recognize signs of abnormality from the graphs displayed by the maintenance support system. Along with identifying the characteristics of individual valves, we are now considering how best to operate, such as what kind of behavior should be monitored and where the threshold values for alerts should be set, and we are also establishing response systems and rules for when alerts are raised," says Hidetoshi Maki of the Engineering & Maintenance Group.
This case study was published in the 2020 No. 1 issue of the azbil Group's corporate magazine, azbil.