National Chiao Tung University, Kuang-Fu Campus
National Chiao Tung University, Kuang-Fu Campus
National Chiao Tung University, one of the most prestigious universities in Taiwan, carried out a renovation for energy conservation of the heating, ventilation, and air-conditioning (HVAC) facilities of its library building as an ESCO business, in order to comply with the energy conservation measures for public institutions put forth by the Taiwan government in August 2008. By renewing existing facilities and re-examining automatic control and operation, the university achieved energy savings that far exceeded its target. These initiatives are gaining recognition as future guidelines for energy conservation measures in Taiwan.
More advanced energy conservation measures are necessary to meet the requirements set by the government
National Chiao Tung University's (NCTU) main campus is located in Hsinchu City in northwestern Taiwan. Since its establishment in 1958, as Taiwan's leading university, it has produced many of Taiwan's political and business leaders. Today, over 14,600 undergraduate students and graduate students are enrolled in 11 departments of NCTU, which plays a key role as an educational and academic research base in Taiwan. Especially in the engineering and computer science fields, NCTU has produced the world's top research achievements and academic papers, and has made immense contributions to the development of Taiwan's electronic industry.
To comply with a recent move toward CO2 emissions reduction worldwide, the Taiwan government has set forth an important policy to reduce carbon emissions, and is aggressively promoting measures based on the policy. In August 2008, to set an example for private organizations, the government announced a new requirement for public institutions including public universities and schools to implement energy conservation measures. Specifically, it set a target of 7% energy savings from 2009 to 2015, compared with 2007 energy consumption levels.
Since 2007, prior to the government's announcement, NCTU's Kuang-Fu Campus has been promoting energy conservation through initiatives focused on introducing heat pumps, replacing the school buildings' lighting with high-efficiency LEDs, and installing motion sensor lighting in the hallways and bathrooms.
Mr. Yang said: "In addition to mandatory energy conservation, the cost of electricity is increasing in Taiwan. To cope with these situations, it was necessary to prepare and execute more advanced energy conservation measures. NCTU decided to implement energy conservation measures for the heating, ventilation, and air-conditioning (HVAC), which consume large amounts of energy. To begin with, we chose to renovate the HVAC of the library building, which is open for long hours, and is also a symbol of the university."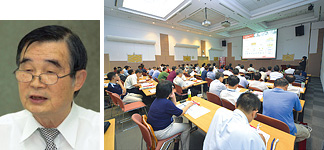 Taiwan Energy Service Association (TESA-ESCO) and Azbil Taiwan jointly held a seminar featuring success cases of ESCO business, at the National Chiao Tung University on July 26, 2012. TESA-ESCO Chairman Bill Chen said: "In Taiwan, the ESCO business's energy performance contracting is being promoted, based on the International Performance Measurement and Venfication Protocol. TESA-ESCO will actively encourage our government to develop laws providing ESCO businesses with financial assistance. We also hope to have more seminars like this to promote the ESCO business, with the cooperation of Azbil and its energy-saving know how."
This case study was published in the 2013 Vol.1 issue of the azbil Group's corporate magazine, azbil.