The University Art Museum, Tokyo University of the Arts
Optimal environment for preserving cultural assets is ensured by constant temperature and humidity in storage areas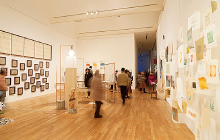 The museum receives many visitors to its Doctoral Program Final Exhibition in December and Graduation Works Exhibitions in January.
The University Art Museum began operating with its new facilities in April 2015. The energy efficiency of the entire museum building has improved even beyond the initial targets presented by Azbil, and CO2 emissions for the entire Ueno campus have decreased below the limits set by the Tokyo Metropolitan Environmental Security Ordinance. At the same time, temperature and humidity of the storage areas are well maintained at 22 ± 0.2 ˚C and 55 ± 2 %, respectively.
"Much to our surprise, we are saving a large amount of energy, and yet the temperature and humidity are maintained at a high and stable level," says the Facilities Division staff member. "We expected that settings of temperature and humidity would always go up and down because the heat load must fluctuate as people come and go, but environment of storage areas is always steady at 22 ˚C and 55 %. So, we can ensure the optimal conditions to protect our cultural assets, which have to be kept constant. When we initially solicited proposals for upgrading our facilities, we were concerned that the energy-efficiency upgrade work would affect our valuable collections, but that concern was entirely unnecessary."
Also, TUA decided to take advantage of Azbil's remote monitoring service for integrated building management. "Azbil's remote monitoring service center always monitors our museum, and if some equipment is not working properly, the problem is fixed right away, so we don't need to worry. Also, the status of all facility operations is recorded and reported to us, so we hope that information will help to plan future energy conservation," comments the staff member from the Facilities Division.
TUA is planning energy-saving measures for its other buildings and facilities. According to Professor Satsuma, "This museum is one of the institutions approved by the Agency for Cultural Affairs for exhibition*4 of its cultural assets. In a recent inspection, the temperature and humidity control in the storage areas was rated as "almost perfect," thanks to Azbil's advanced control capabilities and energy-saving technology. I hope that Azbil will help us with our future efforts, and also more broadly to contribute to society."
glossary
*1 Tokyo Metropolitan Environmental Security Ordinance

A Tokyo Metropolitan Government ordinance concerning the environment and pollution. To maintain a safe living environment for Tokyoites, the ordinance includes various regulations on pollution from factories, proper management of chemical substances, reduction of environmental impact by buildings, CO

2

emissions from automobiles, etc.

*2 ESCO (Energy Service COmpany) plan

A project in which an energy service company provides comprehensive energy services for a factory, office building, etc., and guarantees the results.

*3 BEMS (Building Energy Management System)

A system for minimizing the energy used by an entire office building, factory, district heating and cooling plant, etc., by automating the monitoring and control of energy-consuming facilities.

*4 Institutions approved for exhibition

Institutions, such as art museums or other types of museum, which have been pre-approved by the Commissioner for Cultural Affairs to exhibit their national treasures, important cultural properties, etc. The examination of institutions by this system is designed to promote the open use of cultural properties, so long as the institutions keeping them can maintain their quality while exhibiting them.
These case studies were published in the 2017 Vol.4 issue of the azbil Group's corporate magazine, azbil.