PT Pertamina (Persero) Refinery Unit IV
Optimized boiler system operation cuts 35,000 tons of CO
2

emissions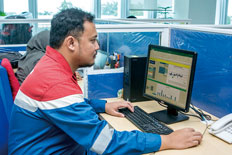 Operational status of boilers can be checked from an office PC.
An oil refinery consists of an oil refining facility and a utility plant. The utility plant consumes about half of the fuel used in the entire refinery, so the project aimed to reduce CO2 emissions by installing Azbil's advanced control technology in the utility plant to make it more efficient.
"Previously we saw significant results when Azbil's advanced control technology was installed in an atmospheric distillation tower. Based on that achievement, we had great expectations for energy savings at the power plant," says Facility & Quality Officer Nidlom Muddin.
In April 2017, Azbil's advanced process control solution was installed for the boiler system. In December the advanced control technology was installed, and in January 2018 operation began. The utility plant's boiler system was a dual fuel type that could burn both oil and gas. Because boiler efficiency depends on the characteristics of the individual boilers, it was important not only to optimize boiler load allocation but also to determine which boilers should use gas to maximize efficiency. Azbil calculated the ratio of oil and gas, built a control system for distributing gas to high-efficiency boilers, and achieved considerable energy savings compared to the previous situation.
"In the past, we allocated fuel manually to each boiler from a distributed control system (DCS). *1 After the introduction of Azbil's advanced control technology, fuel is allocated automatically, which increases system efficiency and reduces CO2 emissions," comments Didik Bahagia, Engineering & Development Manager.
"Previously, Azbil provided PID tuning for the existing DCS, which made the boilers run very stably. Afterwards, when the advanced control technology was applied to the boiler system, we definitely saw positive results," adds Auromi Fitranurkhaliq of the Process Engineering I Department.
"Our initial target for CO2 reduction was 20,000 tons a year, but we obtained 35,000 tons of CO2 reduction in 10 months. The amount of fuel reduction is valued at more than 300 million yen," notes Nanda Dharma Parayana, Senior Specialist in the Refining Process Solution Department.
These case studies were published in the 2019 Vol.3 issue of the azbil Group's corporate magazine, azbil.