PT. Pertamina
System renewal during planned maintenance realized a changeover in minimum time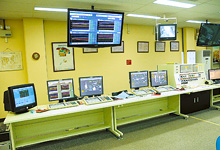 The Harmonas-DEO installed in the paraxylene plant.
Proposals for modernizing the aging system of the paraxylene plant were solicited from four vendors, with the condition that the renewal be completed in a short time. To mitigate the risk of production loss due to a delay in construction, Pertamina imposed a strict requirement for the vendor to pay a penalty should construction fall behind schedule. After carefully reviewing all vendors' plans, the company selected Azbil Corporation and its local affiliate, PT. Azbil Berca Indonesia (ABID), as partners for this project.
Mr. Ibnu Zaenal said: "Consumption of paraxylene continues to expand in Indonesia and surrounding areas such as Taiwan, so as a manufacturer we need to establish a framework for stable supply. It's our responsibility to minimize plant downtime for renewal of the system."
Azbil and ABID proposed revamping the DCS during the plant's planned maintenance*2. Specifically, this meant performing a hot change over (HCO), or renewing part of the system while the plant remained operational; and a cold change over (CCO), or replacing the system during the plant's scheduled downtime for planned maintenance. The changeover required two days, but since it was carried out during planned maintenance while a section of the plant was shut down anyway, actual plant downtime for replacing the system was zero.
Mr. Dadi Sugiana said: " This method of combining HCO and CCO was in fact adopted in the late 1990's when the DCS was installed at Cilacap's two oil refining plants, and we were able to significantly reduce plant downtime compared with a conventional system changeover. Our partner at the time was Azbil. So we considered its track record, including its engineering capability to respond flexibly to unforeseen situations, and decided to award this project to Azbil."
These case studies were published in the 2012 Vol.4 issue of the azbil Group's corporate magazine, azbil.