The University Art Museum, Tokyo University of the Arts
Implementing energy-saving measures and cutting investment cost with an ESCO plan
TUA decided to adopt an ESCO*2 plan to replace the aging equipment and issued a public invitation for proposals. As a result, Azbil Corporation was selected as its partner.
"Azbil's idea was to introduce a BEMS*3 to achieve optimal control of air conditioning facilities while updating the heat source equipment. It aimed for an average energy reduction of 46.2 % over three years. We thought it would be hard to achieve," says the Facilities Division staff member.
An application for a government subsidy, submitted jointly by TUA and Azbil, was approved by Japan's Ministry of Economy, Trade and Industry, and the upgrade work began in September 2014. Heat source equipment was replaced with high-efficiency models, and various control functions were incorporated for purposes such as storage and exhibition, operating facilities efficiently according to the heat load, and taking in the proper amount of outdoor air to control the indoor CO2 density. Also, as the BEMS, Azbil's savic-net™ FX2 was installed.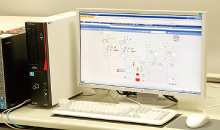 A savic-net FX2 system installed in the central monitoring room. The system provides easily understandable visual data on the temperature and humidity of storage and exhibition areas, as well as data on the energy consumption of the equipment. Operating data is also collected.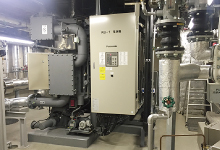 The museum installed high-efficiency heat source equipment and a PARAMETRIX™4 digital controller to manage it. Thanks to optimal control of the equipment, energy consumption has been greatly reduced.
savic-net, savic-net FX, and PARAMATRIX are trademarks of Azbil Corporation.
These case studies were published in the 2017 Vol.4 issue of the azbil Group's corporate magazine, azbil.